DEC Collectors Lunch
Back for the 2002 season!
When
Saturday, March 9th 2002 at Noon
Immediately following the Foothill Flea Market
Where
Fresh Choice Restaurant
2540 W. El Camino Real, Mountain View
(650) 949-4901
Map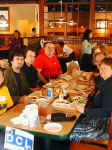 Want to hang out with people who don't think you're weird? Join Silicon Valley aficionados of Digital Equipment Corporation's minicomputers. With no bylaws and no board, our little group stays informal and lunches the second Saturday of each month at noon, right after the Foothill flea market.
So whether you're looking to restore an ancient PDP-8, or get Perl compiled for your VAX, DCL is a great place to meet and eat. If you're seeking obsolete bootable media, programs, boards, drives or just fellow comrades, please sign up on our email list.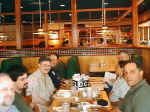 Join us to show off photos of your equipment, to find rare documentation, to trade spare parts, software and tapes.
Join the email list to get meeting announcements and post your swappable items. The list is moderated and subscriptions are currently maintained by a human.
Contact
Debee Norling, DCL Coordinator
408-956-9387

If you can't make it to this month's lunch, please join us at one of these upcoming events!