About JFCL
DCL V2
Join Us!

Join us at the new V2.0 DEC Collector's Lunch!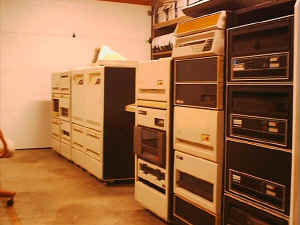 Our garage is home to an array of old DEC computers. Even the youngest of these machines is ten years old in human terms, which is about a hundred in computer years. With the exception of POCO, every one of these machines was obtained for nothing or next-to-nothing, and would have been melted down by the precious metal recyclers had it not been fortunate enough to end up here. The current residents are:

I am a firm believer that antique computers are art, but they are a performance art. They have to run to be appreciated, and not simply displayed in bits and pieces. Every one of the machines youíll read about here runs.
None of these machines is for sale, however I do have a couple of complete, spare, 2000 and 3100 systems that Iíve rescued from dumpsters and junk stores, as well various UNIBUS, QBUS and OMNIBUS spare parts. As a rule I prefer not to sell spares for money but rather to trade with other collectors. If you have something you need, feel free to contact me.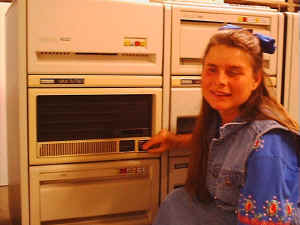 LARGO is a VAX-11/730 system that I cobbled together out of parts from no less than three different 11/730 CPUs. The 11/730 family has the distinction of being the smallest UNIBUS VAX ever made, which was an important point for me since I wanted the ability to support lots of interesting peripherals while still leaving enough room for the car to sleep in the garage. The 730 is also one of the slowest VAXes ever made although, contrary to popular belief, it is not the slowest Ė that honor belongs to the MicroVAX-I. Still, booting VMS V5.1 from power on to the Username: prompt is an easy fifteen minute wait. That time can be cut almost in half, though, by using the Spare Time Gizmos TU58 Emulator.
The 11/730 was intended to be a low cost entry level VAX, and so most systems were small. The standard configuration consisted of only the CPU (including memory and peripheral controller cards in the same box), an R80 disk drive, and either an RL02 removable disk or a TSU08 1600 BPI 9 track tape. I doubt that many systems of LARGOís size were ever assembled, since most customers who would have been able to afford this many peripherals would have also preferred the extra CPU horsepower of the 11/750 or 780. LARGOís current configuration includes:
| | |
| --- | --- |
| | The basic CPU box containing the KA730 CPU (3 hex cards), RB730 Integrated Disk Control (1 card), FP730 Floating point accelerator (1 card), and 5 MA730 1Mb memory cards (using state-of-the-art 64K bit DRAMs, no less!). |
| | One RL02 10Mb removable pack cartridge disk drive and one R80 120Mb Winchester disk, both on the RB730. This comprises the basic 11/730 system. |
| | A BA11 UNIBUS expansion box containing all the peripheral controller cards, with lots of room to spare. |
| | A UDA50 MSCP disk controller along with one RA81 450Mb disk and two RA82 600Mb disks. |
| | A LESI TMSCP tape controller along with a TU81+ 9 track tape drive. The TU81 supports both 1600 and 6520 BPI tapes at 75 IPS. |
| | A M7454 tape controller along with a TU80 9 track tape drive. The TU80 supports 1600 BPI at 25 IPS only. |
| | A RX211 floppy disk controller along with an RX02 dual 8" disk drive. |
| | A DELUA Ethernet interface. |
| | Two DMF-32 multifunction communication controllers supporting 16 terminals (of which exactly one is currently used!), four dialup modem lines and two parallel printers. |
| | And letís not forget the two TU58 tape cartridge drives built into the 11/730 CPU itself. |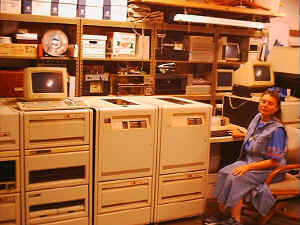 Iím currently blessed with a natural gas clothes dryer, however the garage was originally wired to support an electric one. The 220V split phase, 30A circuit for the dryer works nicely to power LARGO, which uses about 4KW (thatís 4,000 watts!) with everything running. You do have to be careful to spin up the RA drives one at a time, however, since the starting surge for two of them is more than a 30A circuit can stand!
LARGO gets powered up every so often when I have the need and time to use it and, on occasion, LARGO has been called upon to do media conversion of 9 track tapes, RX02s, or RL02s. Since LARGO is connected to the Ethernet itís fairly straight forward to transfer files to a more modern VAX (see CODA) where they can be copied to TK50s, QIC tapes, or burned onto CDROMs. VMS is able to read 9 track tapes in Un*x tar format, RSX-11 BRU format, TOPS-10 BACKUP, TOPS-20 DUMPER, and disk packs or diskettes with RT-11, RSX and (naturally!) VMS file systems. LARGO has also helped several people get old PDPĖ11 systems running by writing bootable RL02 packs or RX02 diskettes for their systems. Contact me if you have need of these services.

If youíve figured out my system of nomenclature, then a machine called OCTAVE couldnít be anything other than a PDP-8, right? OCTAVE is an 8/A to be exact, and itís one of the oldest machines in the garage, not only in terms of original manufacture, but also in the time thatís been with me. OCTAVE started life as a surplus PDP-8/A that I purchased back around 1980, when it wasnít that old or all that obsolete. It ran great in my apartment in Indianapolis, although getting a rack of RK05 drives into the apartment was a little tricky! When I moved to California OCTAVE spent the next ten years living in the basement of my parentís house, until I finally managed to buy my own house in California and had a place to put it.
OCTAVEís current configuration is:
| | |
| --- | --- |
| | The BA8-C 20 slot PDP-8/A chassis |
| | A KK8E (yes, a 8/E CPU Ė it works perfectly in the 8/A chassis) |
| | |
| --- | --- |
| | A RX8E floppy disk controller along with an RX02 dual 8" disk drive |
| | A RL8A disk controller and a RL02 10Mb removable cartridge disk |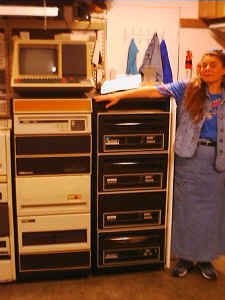 In the picture you can also see a rack of four RK05 drives, three Fs and one J, sitting next to OCTAVE. These are not running at the moment, but I have the requisite RK8E controller and all the necessary parts and I should be able to get them going. RL02s are a lot more forgiving than RK05s, though, and a head crash is a messy thing.
I also have a PC8 high speed paper tape reader and punch thatís very rusty (it spent too much time stored in a damp location), but with some restoration it should be useable. Better yet, I also have a real TU56 dual DECtape drive and the TD8/E controller. This was actually part of my original PDP-8 system in Indiana and the only reason itís not part of OCTAVE now is the memory. You see, the TD8E depends on the CPU to assemble all the 3 bit TU56 tape frames into twelve bit words, and an 8/A system with semiconductor (i.e. MOS) memory is too slow to keep up. Believe it or not, at that time MOS memory was actually slower than core and to use the TD8E you need a system with real core memory. Bummer!

POCO was my first personal VAX, and I bought it for real, serious, cash back around 1990 from the company I worked at, Teradyne. At that time Digital was offering a $1,500 trade in allowance for customers that upgraded a VAXstation-2000 to a 3100 model 30, and Teradyne had several 2000s that they were planning to trade. I asked if Teradyne would sell one of them to me if I paid the $1,500, and they were kind enough to agree. A few days and one check later, a complete VAXstation-2000 system with GPX color graphics, two RD53 disks and a TK50 went home in the trunk of my car. We even transferred the software licenses from Teradyne to me (this was long before the days of the hobbyist VMS licenses) and somewhere I still have real, official DEC PAKs issued in my name.
$1,500 may seem like a lot to pay, but remember that this was a real computer Ė a VAX, with a multi-user, multi-tasking, VMS operating system and X11 graphics - at a time that most people thought that a 386 with Windows 3.1 was hot stuff. I certainly felt like Iíd gotten a good deal. Those were the days before Internet and when people still traded UUCP connections for free, so I promptly got a UUCP connection for it thru the kindness of Andy Rundquist at wetware. Although the original POCO has long been retired to the garage, its UUCP address, poco-adagio.santa-clara.ca.us, still exists, is still served by wetware, and is now handled by CODA.
By the way, the MicroVAX-II CPU that lives inside the 2000 is roughly 3x the performance of an 11/730, however the industry standard (PC industry, that is!) MFM disk drives in the 2000 were agonizingly slow. The net result was a machine that was only a little faster than an 11/730 in actual use, and hence the name Ė poco-adagio, "a little slow." POCO was eventually replaced by a 3100 model 30, a 3100 model 38, a 4000 model 60, and now today by a VAXstation-4000 model 90A. All of these replacement machines have been known as CODA.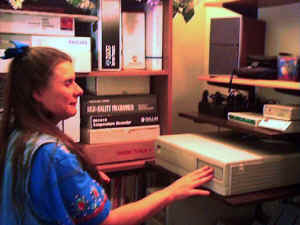 CODA is a VAXstation-4000 model 90A running OpenVMS 7.2, hobbyist license. It is my "personal computer," our household file server and network manager, and it runs 24x7. CODA actually lives inside the house, not in the garage, however itís still able to speak DECnet with the rest of the old computer collection over the house Ethernet. CODA is also directly connected to Internet and is accessible via ftp and telnet, and I occasionally make VMS accounts available free to people who have an interest and a convincing story. We donít sell VMS "shell" accounts and weíre not in the ISP business.
To keep things in perspective, the 4000/90A is mid-90ís era technology. Itís approximately 40x the processor speed of the original POCO, and about 120x that of LARGO, but itís starting to feel a little "pokey" to me any more. As far as I know, the only faster VAX workstation in existence (remember, they arenít being made any more!) is the hard to come by 4000 model 96. Itís possible CODA may some day be upgraded to an Alpha with OpenVMS, but itís more likely that Iíll simply have to bite the bullet and replace it with PC hardware and Linux.

One day I was sorting thru my spare QBUS boards and it struck me that I had enough there to built a PDP-11. MEZZO was born that afternoon. Itís an 11/73 CPU, a RQDX3 and RD54 150Mb MFM disk, a TQK50 and TK50 tape, a DELQA Ethernet interface, and a DHV11 serial line unit. The BA23 chassis that holds those parts actually started life as a MicroVAX-II, and the hardest part of building MEZZO was to find a proper 11/73 medallion to replace the MicroVAX logo on the front. MEZZO could run RSX-11M if the Mentec people would start their own hobbyist program, or it could run BSD 2.11 if thatís more to your taste.
BTW, a mezzo-soprano is a voice halfway between a soprano and a contralto. In Italian, mezzo is literally "half," and a PDP-11, at sixteen bits, is in some way half a VAX.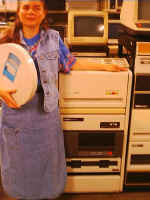 This machine doesnít have a name; it doesnít have a network card and it isnít able to run any operating system that would support a network (well, thatís not strictly true but itís true enough). However itís one of the most enjoyable machines because the OS it does run is Unix, 7th Edition. Thatís "real" Unix, back from the days when programs were small, man pages were short, and the only printed "manual" is a collection of papers written mostly by Thompson, Ritchie and Kernighan. Itís amazing to think that the entire OS, a complete Unix, fits on a 10Mb disk pack with half of that space left over for user files.
The complete 11/23 configuration is:
| | |
| --- | --- |
| | PDP-11/23+ CPU |
| | 256KW (512Kb) MOS memory |
| | |
| --- | --- |
| | A RLV11 disk controller and a RL02 10Mb cartridge disk |
| | |
| --- | --- |
| | DSD 480 floppy diskette controller and drives |
| | Cipher 9 track tape drive and controller |
| | DLV11J quad serial line unit |
| | BDV11 bootstrap and terminator |
This would also be a great system for running RT-11, if the Mentec people would start their own hobbyist program.

The shelves in this picture contain an array of "small" computers, none of them special enough to be blessed with its own name. If your eyes are good and there are enough pixels in this JPEG, you can see:
| | |
| --- | --- |
| | MEZZO (the 11/73) next to Debee |
| | A VAXstation-2000, the original POCO |
| | A DECmate-II (a.k.a. PC-278) "personal" PDP-8 |
| | The DECmate's proper descendent, a DECmate-III |
| | A PRO-380 "personal" computer |
| | Another PRO, this one a 350 |
| | A DECstation-3100 (with the MIPS processor !) |
| | A PDP-8/L (sideways) |