Bob was born in Indianapolis and graduated from Purdue University with a degree in Computer Science. He was fascinated by electronics even as a tiny child. At the age of six, his parents permitted him to solder but, worried that he might set the house on fire with it, restricted him to using it only the concrete floor of the basement. Three decades later, Bob still loves to design gizmos and build kits. We describe many of his projects on our Spare Time Gizmos page.
Bob has worked as both a software and a hardware engineer, both in Indiana and now in the heart of Silicon Valley. During the 1980s, his employment at Digital Equipment Corporation gave him an in-depth knowledge of DEC equipment. During the 1990s, his employment in the EDA industry gave him the skills of PC board design, Windows programming and project management. Bob's last full time position was working on flat panel display systems at Philips Components of North America.
Today Bob is self employed as an independent consultant in hardware and software engineering. When he's not busy with consulting contracts, Bob designs and builds electronic gizmos for computers, audio and Amateur Radio. Bob sells kits and PC boards for his more successful projects thru his Spare Time Gizmos business so that you, too, can build your own gizmo.
And should the work-life lack variety, Bob also gets to troubleshoot plenty of gremlins at home. He's turned our garage into a computer history museum, where old Digital Equipment minicomputers still purr, Winchester drives roar, 9-track tape drives spin and teletypes chatter. See and hear some of the equipment he's lovingly restored. Today, old computers are dismantled for scrap metal; their precious innards thoughtlessly tossed into dumpsters. Bob has tirelessly scavenged, assembling much of this collection piece, by painstaking piece.
Besides his impressive collection of DEC minicomputers and peripherals, Bob has also collected and restored older scanner and short wave radios and many small calculators. The calculators come from the late seventies: when calculators were just becoming affordable but before they had LCD displays. The radios are the solid tube models from the '40s and '50s, and he's especially partial to the Zenith Transoceanic models.
Glade
Glade, the golden retriever formerly worked as Debee's third guide dog until she (Glade, that is, not Debee!) retired in February 2002. Glade now lives with us as a pet and, although her vision and hearing are not what they used to be and her arthritis gives her trouble getting up in the morning, still leads an active life. Glade visits our local Veterinarian's office twice a week, not because she's sick, but to stay in the lobby and serve as a therapy dog for people sad over the loss of their own pets. Glade also occasionally goes to work with Debee or Bob, especially when Bob is working on a blindness or low vision related contract. The remainder of her time is spent either sleeping or trying to get the nearest human to pet her.
Debee was raised in Hayward California and attended U.C. Berkeley where she studied comparative literature. She worked for a time coordinating recreation programs for disabled adults and as an accessibility consultant, leading seminars across the country on making facilities wheelchair accessible. Debee founded Berkeley's Volunteer Exchange Cooperative which enabled mostly low-income people to save money by bartering skills.
After bumming around rather pointlessly for five years, Debee decided to teach herself to program computers. She hired herself out as a typist for quadriplegics studying computer science at U.C. Berkeley. Sitting on the pedals of people's wheelchairs, she typed Fortran into terminals, helping students complete their homework and exams. She went to classes with physically disabled students, tape recording lectures and discussion and later transcribing the material.
As a blind person in the late 1970's, there weren't many options for accessing a computer and these jobs were Debee's creative way to learn computer skills without buying adaptive equipment or having access to any herself. Better yet, not only did she get a great computer education, she actually got paid for going to class!
After mastering the fundamentals of programming, she taught BASIC at a local junior college, then moved on to running Grassroots Computing, her own software business. She designed and coded Video Voice, the fourth screen reading program to be written for the IBM PC. Screen Reading technology enables blind and visually impaired users to read the computer screen and operate standard applications like WordPerfect.
In the early 1990s, when Windows screen access technology was still primitive, Debee worked a variety of technical support jobs. This gave her an in-depth knowledge of Windows, even though her access to it was still fairly poor.
By the year 2000, she'd held a variety of jobs in the high-tech industry. And she's never lost her passion for learning how to do new stuff with the computer. Debee is also enamored with Awk, though she admits to knowing Perl. She's currently using JavaScript at work and has become fascinated by programming in Windows with the Windows Script Host. See some of her WSH links here.
Debee also enjoys experimenting with low-fat cooking, gardening, reading and ham radio. Her call is KF6BKR. Go to our ham page to see our shack!
Boston
Boston, yet another Golden Retriever, is Debee's fourth and current guide dog. He was born July 7th, 2000, graduated with Debee from Guide Dogs for the Blind on February 2nd 2002, and is absolutely never, ever, unhappy about anything. We call him, among other things, "helicopter butt" because his tail never stops wagging. Boston also knows every dog game known to man or dog.
Bob and Debee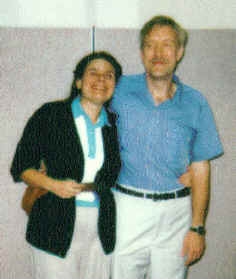 Bob met Glade and Debee when he worked as the software engineering manager at Telesensory, a company that designs and manufactures high-tech equipment for people with visual impairments. Debee was a senior technical support specialist, who suddenly discovered that she wanted to spend a lot of time consulting with the software engineering manager.
Meetings lead to long lunches, which lead to long evenings, and Bob and Debee soon decided to share a home together. Debee, who holds an Advanced Class Radio Amateur's license eventually talked Bob into getting his technician's license. Since then, Bob has turned his roof into an antenna farm and discovered the thrill of ham radio satellites. You can hear some of his satellite QSOs here on our Ham Radio page.
Today our biggest non-technical quest is to stick to a healthy lifestyle. By regularly exercising and reducing our calorie intake we lost weight together, so we are committed to continuing this discipline.
We also love to travel, mainly by train. These links take you to illustrated travelogues of our adventures.
And we love Electronic Flea markets, where we bargained and haggled for the gear residing in our ham shack.