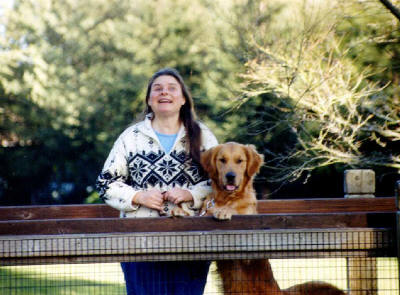 Boston, my fourth and current guide, was born on July 7, 200. He's a big, beautiful golden boy. As of this writing, this three-year-old retriever is more of a puppy than a dog and when he's not leaping, slurping and snorting, he can occasionally be seen actually guiding.
Like many Goldens, Boston is perpetually wagging. Our mind's eye conjures up a sober, dedicated beast when we think about a service animal and many people have asked me if silly Boston is actually trained.
But Boston is truly highly trained. Like many humans affected by attention deficit disorder though, he needs to be actively engaged to work well. The positive side of being distracted by everything is that you miss nothing. And as he swiftly zips me across those busy six-lane intersections, I know he has his eyes on every moving vehicle. As he deftly maneuvers me through downtown areas with throngs of tourists, we easily slip through a crowd. But give him a long, rambling country road and he'd much rather chase a squirrel than guide!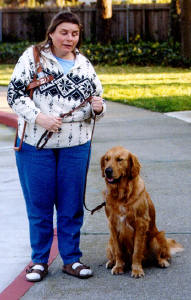 Boston's effusiveness and high energy level prevent him from being the perfect guide for many people. But when I get frustrated with him, I remember my experience in the Loma Prieta earthquake two dogs ago.
During the the shaking, my German Shepherd guide darted out in to the street pulling me with her in to heavy traffic. The marble facade of the building I was passing fell hitting the sidewalk where I'd stood just a second before. Dragging me into traffic, off the sidewalk, was breaking all the rules and she went against all her training to keep me safe. The dog's quick reaction probably saved my life.
An intelligent, fast-thinking dog is often not the most obedient. He's as intent on his environment as he is on his master. Boston's greatest strength is his ability to make independent decisions, his initiative and his love for his work.